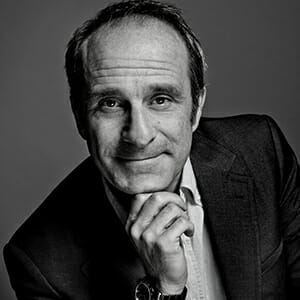 In 2019 Nextdoor became Wojo, accelerating its development and creating the ambition to become the leading European coworking network. Two years before, Accor Group, one of the biggest international hotel companies on the planet (operating brands such as Ibis, Mercure, Sofitel, etc.) had taken a 50% share in Nextdoor, by then 100% owned by the real estate company Bouygues Immobilier. We have interviewed Stéphane Bensimon, CEO of Wojo, in order to find out more about the project Wojo and its present and future plans in Europe.
Hello Stéphane. A few years ago Accor Group joined Bouygues in the Nextdoor network to develop coworking offerings. Why was this move needed for both players at the time?
A 50/50 joint venture was signed in July 2017. Insofar as Accor hotels were already endowed with shared spaces conducive to meetings and interaction, the idea of offering a place to work (as well as to network) dedicated to clients and local entrepreneurs came to mind naturally. Bouygues Immobilier aims at offering its clients an opportunity to plan shared workspaces (bars, coworking spaces, lounge areas, meeting rooms, carparks) from its design stage and hence help them optimize their business costs. So the fit between both companies was clear.
Nextdoor has become Wojo. Why was a change of brand needed? Is Accor more in the driving seat now?
Nextdoor became Wojo to help its international roll out. Wojo is a spirit – the combination of Work and Mojo. Once Accor took shares in the company's capital we truly worked hand in hand with Accor's Innovation Lab' to define together the future of coworking; true teamwork followed. When the idea of a typology of spaces ("Spots" and "Corners" linked to Nextdoor sites) came about, it seemed clear that we had to reinvent ourselves in order to fulfill  peoples new ambition of working internationally, of working at most ten minutes from where one is living, etc. And no, Accor is not specifically the one in charge. We designed Wojo together and since then we have been standing on our own two feet with its support.
You want to become one of the biggest coworking providers in Europe by 2022. Why are hotel professionals well positioned to serve the flexible workplace industry would you say?
This is because the Accor staff is unrivalled in terms of reception and hospitality and we feel those to be key elements. A friendly dimension is at the core of Wojo's offering. We welcome our new members through a shared moment, making sure that their days go by perfectly well. Accor has already got hotels ready to welcome clients all over Europe. This makes things easier for us in terms of networking. In the long run, we would like everyone to find a place to work less than 10 minutes from where he/she is located (whether a nomad or sedentary worker).
Workers are forever expecting more services (catering, fitness rooms, concierge services) at their workplace with which hotels are already endowed. According to an Inkidata study conducted in February 2019 for Wojo (results of the study, in french), 48% of French workers would like to benefit from spaces linked to sport or relaxation at the workplace. This is because it is the best way to offer business travellers an opportunity to make up a local network by offering a service that facilitates networking.
48% of French workers would like to benefit from spaces linked to sport or relaxation at the workplace.
Will Wojo's expansion occur only through the Accor Group properties and hotels network or could we see Wojo spaces in third-party buildings?
By the year 2022 we expect to open 1.200 locations all over France and Europe within Accor hotels. Yet, Wojo Spots and Wojo Corners have been designed to be set up in any third-party location so long as it fulfils a certain number of requirements (high-quality and safe Wi-Fi, furniture quality, acoustics, good working conditions, etc.). In the long run they will be made available in train stations, airports, shopping centres, cafés, etc.
Today, for example, there is a Wojo Spot in LA.SALLE.DE.SPORT with a Reebok concept store and a social club in the very heart of Paris. Not to miss out on anything, the locations that are already open can be viewed on our web app.
Nowadays hotel chains are entering the coworking field in bigger numbers. What does it tell us about the changes in the hotel business on the one hand and the evolving coworking market on the other hand?
Demand, which is directly linked to the revolution coming about in working conditions, is huge and the offerings are equally so. However, quantity does not rhyme with quality. It may appear to be easy to open up a coworking space. Yet in reality one must be in a position to offer a true experience including reception, a secure wi-fi connection, a quiet location, networking possibilities, the right atmosphere, services, etc. Small things (in reality not that small) make the difference. As for hotels: they have been disrupted by Airbnb. They are now in search of something new. By definition, a hotel is equipped as a minimum with a lobby, breakfast room, etc. in which it is tempting to improvise a coworking experience. In the long run we can imagine a client choosing a hotel no longer by pictures of the room or by how clean the spa is, but by the quality of its coworking facility.
As for hotels, they have been disrupted by Airbnb. They are now in search of something new. By definition, a hotel is equipped with a lobby, breakfast room, etc. in which it is tempting to improvise a coworking experience.
Seen from the outside, Nextdoor has positioned itself more in the corporate segment of demand for coworking with spaces located in higher-end business districts. Will Wojo keep positioning itself in that slice of the market?
We understand your interpretation, as Wojos origin comes from an intrapreneurial project on the part of Bouygues Immobilier. The first buildings meeting the conditions for such projects were naturally found in Greater Paris. Yet, from the outset, Nextdoor has had a true willingness to bring together companies of different sizes at one location to encourage open innovation. As a result of its positioning and more concretely speaking its price policy, its community has always been comprised of a host of different profiles. Wojo follows along these lines with its Wojo Spot offer of 9,90 Euros per month with no commitment. We are open to students as well as key accounts. Remote work now concerns all of us and we have at heart to see different sectors of activity, ages, trades come together, truly valuable.
Remote work now concerns all of us, and we have at heart to see different sectors of activity, ages, trades come together, truly valuable.
Wojo Spots, Wojo Corners… Is the Wojo offering targeting only nomad workers or longer-term resident workers? How different will Wojos be in Ibis or Mercure from Wojos in Sofitel for instance? What is your approach to segmentation?
There must be no ambiguousness here. Wojos are open to all those who wish to work. It is neither a service reserved for hotel clients nor a service delivered exceptionally to nomad workers. Our aim is to enable travellers and/or nomad workers to meet "locals" and be given an opportunity to network. We are therefore addressing the district's inhabitants or professionals who are invited to come there to work, near to where they are situated! Nearly all brands are eligible, except for ultra-economical ranges such as Ibis Budget or Hotel F1 or ultra-luxurious ones (such as Orient Express Raffles). The criteria imposed, such as a secure wi-fi connection, reception, reduction on beverages and snacks… are the same for everyone. At this stage we have begun to roll out Spots in France in an economy/mid-range: Ibis Styles, Ibis, Mercure, Novotel, etc. and some are about to open in the high-end/luxury range within Pullman, MGallery and Sofitel. As for Corners, this concerns the same range of brands as Spots.
Hospitality is the number one value proposition offered by hotels. How comfortable are you with the notion of community  as an important factor in the coworking experience?
As mentioned above, one of our strengths lies in the conviviality and good atmosphere that reigns in all Wojos. Furthermore, Wojo does not exist without its community! In addition to shared office spaces Wojo stands on a team of passionate people.
We thus offer a wide range of business and festive activities in each space throughout the month so as to enable each person to meet others, exchange and learn as well as relax. Community Days for example are held every week in a different space. They enable members to pitch their propositions,  propose a workshop, meet our partners invited for the occasion, invite their clients, attend a conference, etc. Our community also interacts on our digital platform. Discussion and support groups are set up where a program of physical activities is available.
Some experts predict that coworking will represent 20 to 30% of the whole office market by the end of the coming decade. Would you agree with that prediction?
Yes, I believe that is correct. It is more than just a trend. It answers to a need on the part of employees and companies alike, even if for different reasons. Of course we would like to keep up the pace. We plan to open 50 Wojo buildings, 100 Corners and 1 000+ Spots in France and Europe so that members never have to worry about where to set up to work again, hence giving them a guarantee to stay forever connected with their community via our digital platform.
What are Europe's specific challenges in the field of workplace expectations as opposed to other parts of the world?
There is no specific challenge in Europe compared to other continents. New ways of working are growing everywhere. For example, we see the same trend in Asia with coworking representing more than 3% of office stock in Hong Kong or Singapore. I'm personally convinced that Africa could be a strong coworking market in the coming years. We decided to start Wojo within Europe because of our field knowledge and needs expressed by our current members.
Join us at Coworking Europe Conference for more insights, data and connections!