Ralph Manheim is the CEO of Primalbase, a company whose mission is "to provide physical environments for the tech community to realize their ideas and projects". Primalbase works on creating a network where developers researchers and entrepreneurs can come to work, explore and collaborate with others in tech. With that purpose in mind, Primalbase started to open up coworking spaces, offering usual perks such as fast internet, free drinks and snacks, kitchen, meeting rooms, lounge areas and so forth. Primalbase is operational in Berlin, London and Amsterdam with locations set to open in New York and Singapore by the end of 2018.
What makes Primalbase specific? The company is one of the first coworking space to opt for a blockchain based technology to offer access to its members. A the center the model: the sale of blockchain based tokens, identified as PBT Token in the case of Primalbase. The PBT token was valued 4.700 US$ at the end of October 2018. The sale of  blockchain tokens helps to fund the initial investments in the space.
We interviewed Ralph Manheim on the the reasons why he pioneered this new coworking blockchain based model.
Hi Ralph. What is the interest of a blockchain technology based model to operate a network of coworking spaces?
This has a range of advantages for users and it is central to the creation of the community based coworking model that we believe the tech industry has been yearning for. Our tokens are also innovative in that they can be or will be the technology (nearly there) allowing to lease out the coworking access to another person temporarily. That way, token holders are enabled to get a financial benefit when they don't use the token for themselves.
Can you explain us what lies behind the so called blockchain tokenization of office real estate?
We issue tokens which are stored on a blockchain in order to ensure that they are completely secure. They are practically impossible to steal and cannot be altered. In the case of our PBT token, we are based on Waves and Ethereum blockchains.
Let's say you buy our PBT tokens via an exchange (many exists). By owning one token, you are granted the access to a desk in any of our offices around the world.  A few months later, let say you no longer longer need a desk seat. You can then sell the token to someone else, who will then get access to the coworking space. Same thing would you be planning not to use your token for a while, you can lease it out instead of selling it out.
What are the advantages of your PBT Token as opposed to rely on a more traditional Real Estate transaction model?
Our members benefit from the great flexibility that our token offers. Not only can you use it on an international basis, as you can access all our operational offices in Europe and in the world. You also can sell your token straight away would your office needs to cease. This means less administrative and costly steps. Basically, you are less bound and keep a higher level of control on your exact needs and spendings.
Who, typically, buys one of your tokens ?
Everyone can buy one of our token. At Primalbase, though, we are focused on the tech community.  It's an open market. Our environment is geared towards the tech community. So, are you active in tech field, the benefit is most straightforward for you as you get an immediate access to a community of peers. That said, our community is diverse and shares the same appetite for innovation and collaboration.
Why does community building still make sense in this model?
As I mentioned, community building is at the heart of this†model. One part of our product is certainly the workplaces. They are  spacious, beautiful and cool places to work from. However, that is not the only component. The most important aspect of our product is the community that works within them, what they can offer each other, the energy they create, the shared sense of mission to co-create exciting new technologies together. This significantly increases the ability for individuals and companies to accelerate.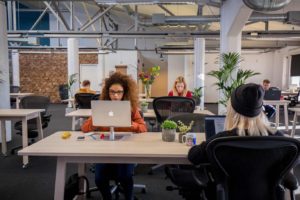 Do you think that blockchain technologies are going to disrupt the commercial real estate market in the coming years? What could stop it?
We are still in the very early stages. Nonetheless, we feel that tokenization based on blockchain will certainly be transformative in real estate business. We feel that we participate in proving that we can revolutionize the way workspace lots can be allocated. We can change the way we see the interaction between supply and demand in the real estate sphere.
Should all coworking space operators switch their model to tokenization?
We are currently focused on ourselves and delivering on our promises. We are not here to judge other coworking operations on which model they should build up their developments. However, tokenization is well an integral part in our model. We feel it's the right way to go and have faith in the flexibility and freedom that tokenization offers its users.
Join Coworking Europe Conference for more insights, data and connections!