The Deskmag Global Coworking Survey 2017  is out.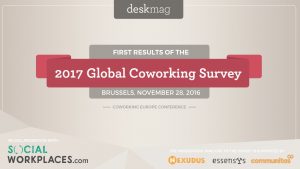 The first results where presented at Coworking Europe 2016 (Brussels, Nov 28-30).
Download the worldwide data and statistics here below.
As of today, there is close to 1 million coworkers worldwide.
By leaving your email address in the box, here above, you agree to receive information about our future publications and surveys.