[vc_row][vc_column][vc_column_text]StartupAmsterdam is a public/private initiative, with a time-span of four years to fortify the city's position as leading startup hub in Europe, and increase the international visibility of Amsterdam's startup ecosystem. The growth of a wide web of coworking spaces and accelerators all over Amsterdam is a strong argument used on StartupAmsterdam's communication materials to convince outsiders of the powerful position ot the City as one of the the most vibrant startup hotspot in Europe.
Iris Muis is StartupAmsterdam's startup liaison . The startup liaison oversees Amsterdam's startup ecosystem, managing data on the city's startups, co-working spaces, corporates connected to the Corporate Network, relevant events and more. We interviewed Iris about how important the growing Amsterdam coworking hubs' network was for the developement of city's  startups ecosystem.
Hi Iris. What is StartupAmsterdam ?
In 2015, the City of Amsterdam has realised that, to play its part in the European startup ecosystem, it had to invest in the city's vibrant startup scene. Local government teamed up with the startup community and drafted a plan of action: StartupAmsterdam. This plan consists of fifteen measures to help startups grow, based on the five basic requirements for startup success: talent; customers; content; capital and an environment that is startup-minded.

StartupAmsterdam works with an extensive network of partners and is happy to share its approach with other cities. It does not invest in individual startups. We help optimize the startup climate in the city, making sure all is in place for you to make a success of your startup.
According to your website, the city's wide network of Coworking spaces are one of Amsterdam's main assets to lure Startups. Why ?
The City of Amsterdam is proud of its well-developed and diverse startup ecosystem which embeds these companies and the knowledge institutions, high-quality accelerators, incubators, startup academies, corporations, coworking spaces and VC firms that help them grow.  Not only are coworking spaces key players in the startup ecosystem, they also provide a basic need for startups: a place to work. Amsterdam's city centre is crowded, because of the limited space we have in our circular grid of canals. Coworking spaces can lower the threshold for startups to have an office space in the city centre.
What is the difference you make between coworking spaces and accelarator/incubator offering ?
Accelerator programs offer intense training courses for startups. Incubator programs offer in-house mentoring, and coworking spaces offer space to work. For the oversight of those different players on our website, differentiation is easy. Most of the time, accelerators, incubators and coworking spaces approach us to ask if they can be placed on the relevant oversight. Startup physical Hubs are key players in our startup ecosystem. To see an overview of the amazing incubators and accelerators in our city check our website: http://www.iamsterdam.com/en/business/startupamsterdam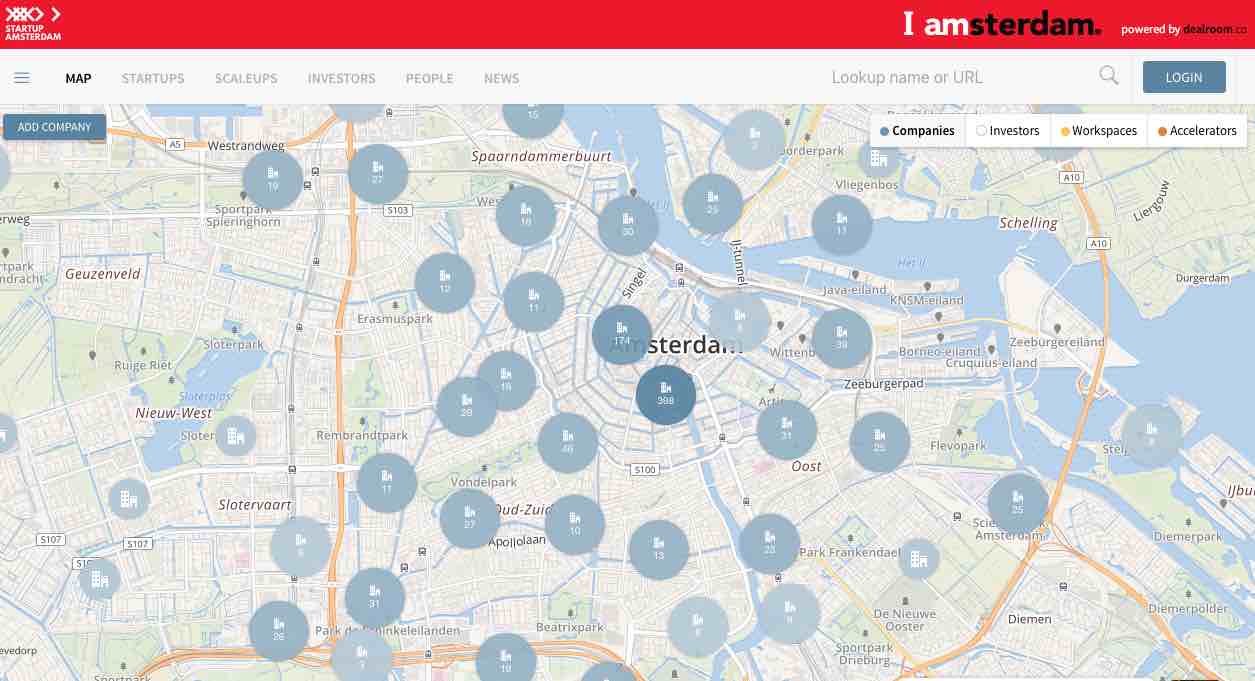 More than 1.100 startup would be based in Amsterdam. How many work from hubs (coworking and accelerators) ?
What I can say now is that these hubs are an important driver of startup growth in this city, as they often support seed or early stage startups and really strengthen their growth. We have set up a governmental incubator called Startup in Residence. One of StartupAmsterdam's measures details how local government can act as launching customer to startups. In collaboration with the Chief Technology Office (CTO) of Amsterdam we set up Startup in Residence: local government invites Dutch and international startups to devise innovative solutions to social issues in the city. The pilot of this incubator successfully ran in 2015 with seven startups. Currently we are running Startup in Residence 2.0.
Since the summer of 2016, seven new coworking spaces have opened their doors in Amsterdam.
Are Amsterdam's coworking spaces becoming more numerous or simply bigger ?
Both. For example, coworking space B.Amsterdam started out with 20K square metres in 2015, and now has more than doubled in size, to an astounding 42K square metres: http://b-buildingbusiness.com/amsterdam/. Since the summer of 2016, seven new coworking spaces have opened their doors in Amsterdam. We keep track of them, their addresses and the amount of square metres of co-working space they have.
Do those hubs collaborate ?
Amsterdam's ecosystem is very well-connected and parties work together where needed. We have a small hands-on team working on executing the fifteen measures of our action programme. Some examples of what StartupAmsterdam has been up to so far: establish Launchpad Meetups to connect corporates and startups; help launch startup academies like BSSA and the Growth Tribe academy to educate the talent startups need; kickstart Amsterdam Capital Week to connect startups to capital; bring code into Amsterdam school curriculums and educate teachers to do so; attract talent to help startups grow; establish international relations and organise bootcamps to the benefit of our startup community; to know more about what we do we recommend you browse our online news section and about page.
Coworking hubs in amsterdam are both becoming bigger in size and more numerous
The StartupAmsterdam website offers a useful calendar of all the startup-related events in Amsterdam. The calendar is open to all to upload startup events taking place in Amsterdam, just hit the "Submit Event" button. After we agree that your event is relevant to Amsterdam's startup community it will show up on the calendar!
Amsterdam is also one of the tech clusters in the Netherlands that work closely together under the name of StartupDelta. In the past one and a half years, StartupDelta has linked up the various innovation hubs in the Netherlands and positioned our country as one of the most attractive startups ecosystems in Europe. Whereas StartupDelta was a governmental programme on a national level, StartupAmsterdam is a four-year action programme on a city level. The Dutch capital city is one dimension in the multi-faceted 'StartupDelta of Europe,' the Netherlands.
How about welcoming 'talents' in Amsterdam. Is your approach similar to what you do with advising startups ?
For welcoming talent in Amsterdam and connecting them better with the startup ecosystem, we have developed several programs. TechConnect is a program that brings together students and graduates with a tech background with startups. We also work closely together with the universities in Amsterdam, for instance in designing an honours track for excellent students to introduce them into the world of startups. Coding 4 Amsterdam is another program.
Join Coworking Europe Conference for more insights, data and connections!