Marouan Aoudia is an Algerian national, born and educated in the US. During 10 years, he worked in the corporate world before shifting towards the entrepreneurial world, end of 2015, armed with a long list of projects among which to open a coworking space in Algeria : The Address.
Hello Marouan. Could you introduce yourself as well as The Address project?
I was introduced to coworking for the first time on April 2015 during a visit to the US, and I immediately thought about seeing this concept into Algeria.  Along with my strategic partners Majda and Chouaib, we worked on the concept, activities, and the general branding of the space.  The Address was born on Feb 2016 as the 1st coworking space in the country.  It is located in the capital, Algiers, and in area that has multiple options of public transportation for ease of reach.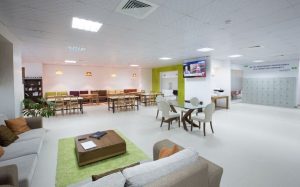 The Address is approximately 250 m2 big in surface.  Our vision is to create an environment that embraces the notion of connection, collaboration, and creation among the members. We welcomed members from diverse sectors and backgrounds, some just starting out in their entrepreneurial journey and others are established professionals that require a work space while in Algiers.  This mix of backgrounds and experience level is what makes The Address a unique space I believe.
What are the reasons Coworking can thrive in Algeria, according to you?
As for any service proposition, to be successful, it needs first and foremost to solve a real problem that exists. Coworking solves an issue that many entrepreneurs and independent professionals are facing in Algeria : the lack of affordable space where they can work, a place to receive potential clients, an opportunity to connect and network with peers, ability to establish their commercial license without important capital requirements. Coworking put simply tackled all these problematic and it allowed many people to take their 1st step towards establishing their projects with just a small capital, establish a commercial license and be connected with fellow members as support system.
According to you, coworking can help emerging countries such as Algeria to diversify their economy. Can you elaborate ?
Currently Algeria is tapping into its foreign reserves just to maintain economic stability after witnessing the massive drop in oil prices, a resource that historically served as the main economic contributor.  Faced with the situation on hand, we have no choice but to diversity and develop other sectors of the economy.  As previously stated, Coworking in Algeria plays an important role in creating an environment that supports the development of a startup scene and the entrepreneurial landscape in general.  We are seeing a new stream of startups being founded at Coworking spaces that eventually graduate to standalone businesses as they scale up their operations. The numbers are out there, in many economies around the world SMEs contributes the heavily in to nation's GDP figures and employment sector.  Again, Coworking is the 1st step towards that journey, the starting point in a chain of business development that will see a small startup become an valuable economic contributor.     
Coworking is the 1st step towards that journey, the starting point in a chain of business development that will see a small startup become an valuable economic contributor.
Coworking communities can become connection hubs between entrepreneurs from emerging and developed economies. How can we achieve that better?
Definitely, coworking spaces from across regions and continents once connected can serve as the ambassador's of the world in their respective countries.  Once this has been achieved, we can start working on an array of projects whether its digital in nature or anything else that is both relevant and of added value.  Coworking owners have the capacity to engage the members, influencers, and local community towards a common initiative.  It is worth noting that idea aside the most challenging part in these sorts of grand scale initiatives is the quality of execution and sustainability. On the profitability side, Coworking spaces can again collectively seek funding from international organizations in return of the value that these projects can bring home.
What can we say about the Algerian digital ecosystem and how coworking can help?
The digital ecosystem in Algeria is lagging behind even when looking at it from the perspective of North Africa region.  It is hindered by two main issues, the low speed and at times unreliable internet connection and the lack of structured e-payment system.  So we have an infrastructure issue more than anything.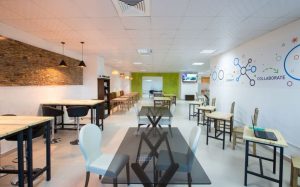 There is a lot of interest among youth for everything related to digital world and Coworking spaces are serving as platforms connecting the community members by organizing seminars, events (SW: cfr Algeria Startup Altitude, for instance), workshops, and trainings related to it.   As the infrastructural issues are resolved, Coworking will be playing more of an active role in initiating   
Does the coworking working model speaks also to SME's or bigger companies, or is too early in the country?
At The Address we already have a number of SME clients.  These are clients where the HQ are based outside of Algiers but still have strong client base in the city.  We offer them special corporate packages that would allow them the use the space when visiting and more importantly we offered them virtual office service by serving their client base administratively on commercial transactions.   We also host corporate evening events at the space for themes that speaks to youth and entrepreneurship.
The Address is settled in a "Commercial Centre". Why is this location appropriate for a coworking space would you say ?
We are located in hybrid building that has a mall, commercial offices, governmental agencies, and residential studios.  The center offers many advantages.  First, the center has 1000 free parking spaces, a luxury that you will not find elsewhere in the city where parking is a major issue.  Second, the center offer security 24/7 allowing us the run evening events without any fear for safety.  Third, our clients and Coworking members appreciate the services that the commercial center has to offer in terms of food court, catering, dry cleaner, gym, among other things that makes life just a bit easier.
In Europe or in the US, we hear more and more about "dying" shopping malls. Can coworking save "commercial centres" ?
A dying garden needs to be rejuvenated.  The way to do it is to remove the dead plants and inject new seeds that can break ground and foster.  Dying infrastructure is no different; if malls are dying they can be converted to a mix of commercial offices, innovation hubs, art galleries,…the economic cycle will always see concepts that will seize to exit in the expense of new fresh initiatives, our role is to adjust accordingly.       
What are your main challenges and hopes?
As a Coworking space owner the challenge is to continue to promote the concept and build awareness, get better traction and create greater demand to sustain operations.  A year and half into our existence, we have taken great strides towards that goal and have adopted well to meet the demand of our community and corporate clients.
At a macro level, I hope we will see more initiatives in Algeria from private sector that goes towards the development of our young human resources.  Emerging countries have abundance of talented youth that are never given the proper mentoring, resources, and opportunity to excel.  More often than not, they opt to travel to Europe, US, and there they develop into influential figures and contributors to their adopted nation.  We need start to start paving a road for their success while they are here.     
Join Coworking Europe Conference for more insights, data and connections!