The second year of The Social Workplace Conference in London opened with high spirits, leading a day of engaging talks, inspiration and of course, that wonderful feeling of community.
Pier Mucelli from eOffice kicked off the day discussing the origins of coworking and the pioneers that lead the way in distinct classifications such as public spaces and members clubs. The first coworking spaces in the world were launched in the early 2000's. The format has since grown and now includes branded incumbents WeWork, our special hosts for the event.

Whilst the likes of WeWork, Google Campus and Regus, to name but a few, are globally recognised brands in the sector, they collectively share only 15% of total market share, meaning that 85% of the market share is absorbed by independent providers. Giving a lot of opportunity for these independent providers to shape the culture and purpose of their co-working outfits.
"Distilling a community of talent"
But why are coworking spaces becoming so popular? Hillary Deppeler, Brand Marketing and Partnerships Director for WeWork EMEA, explained that the demographic shift of the way people work and want to engage means that the workplace must become vibrant places that provide connectivity, allowing members to focus on their work by taking care of the common facilities. Members are increasingly connecting through the WeWork app where they can post jobs, seek skills and meet new people in multiple directions, whilst leveraging the USP of their global community that has evolved organically.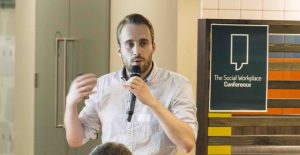 Talking about community, the audience was awed with Sarah Turnbull from Bootstrap London who is creating a community by doing good. She illustrated the the story of doing good through selecting occupants with social and community based impact. Infectious inspiration that reminded us of how so many lives can be impacted by the communities we wish to build and the talents that can be nurtured within these communities.
"Building a community by doing good"
Is coworking a popular mode only for freelancers and millennials?!

According to JLL's research on a new era of coworking, this is not the case. As corporations vie to retain talent and facilitate innovation, the real estate firm has seen increasing demand from corporates to utilise this work mode for its personnel. This can be achieved through various models, explained Karen Williamson and Maciej Markowski, from JLL : internal collaboration, coworking memberships and internal / external coworking spaces, with various benefits and downsides to each. Rob Fitzpatrick, Confluence Partnerships, highlighted the design of the workplace and its impact on the psyche, adding to the need for corporates and organisations to design environments that are conducive to the productivity, social connectivity and mental health of its workforce.
Highlighting the evolution of the workplace and architectural design of workspaces throughout time, Oliver Marlow from Studio Tilt succinctly argued that space, creativity, community and innovation are symbiotic by-products impacted by the physical environment. Creativity and collaboration as social capital can be fostered in environments where emotional intelligence and flow form a part of the design and community building process. Mischa Schlemmer emphasized the need to be authentic in order to build a community, but to also engage and serve the community in order to attract and retain members or for corporates, their personnel.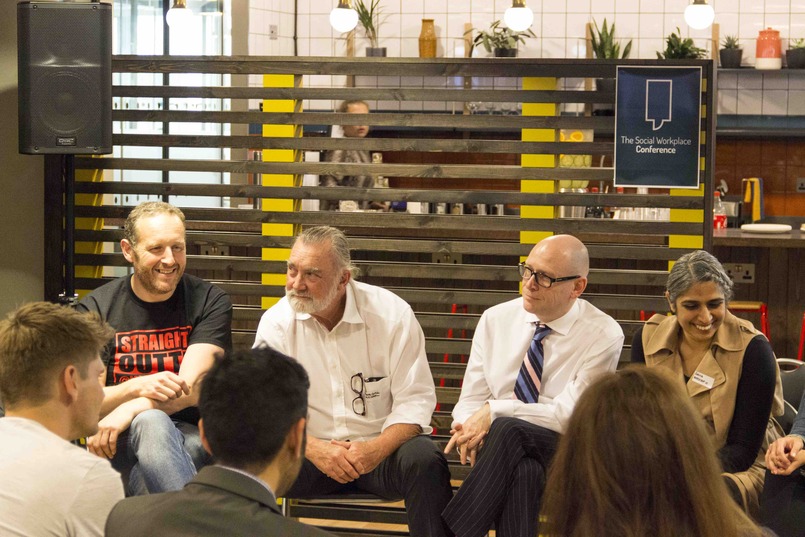 As if that wasn't stimulating enough, the afternoon workshops were engines for thought and discussion. Followed by a heated debate on the closing panel, where our American counterparts, Frank Cottle from Alliance Virtual Offices and Liz Elam from GCUC finally agreed that community is a feature of a coworking space, and needs constant development, maintenance and aligning values. Community was a much talked about topic for the day, highlighting the humanistic need to belong and relate to others. This human characteristic has not changed in millennia. As we enter a new age of industrial revolution, the future looks like a great forecast for community not only in our personal lives, but also in the workplace.
Written by Letitia Seglah on June 15 2016
Pictures by Deskmag
Find the different presentations here below or here.