Coworking has be around for more than a decade in Europe. Nowadays, coworking reaches out to every corner of the continent. BNP Paribas Real Estate released a study spotting the new upcoming coworking hotspots in Europe and what drives the growth. We interviewed Richard Malle, Global Head of Research and Vincent Voute, Senior Research Analyst, to tell us more about their findings.
Hello Richard. Hello Vincent. According to your research, London and Paris are experiencing a deceleration in terms of coworking growth. Are the best days over for coworking in these metropolises?
The growth rate of coworking is indeed slightly decelerating in London and Paris. However, with +13% and +19% of space taken-up by coworking operators, 2018 still saw a 2-digit growth in both cities. In terms of volumes (transacted m2), the take-up for coworking spaces reached significant values in both cities already two years ago, and represented again by far more than 100,000 m² of new coworking space in 2018. Consequently, the slowdown in growth is not a sign of a weakening market. This is just more difficult to achieve a high growth rate when it is calculated on the basis of big volumes. On the contrary, it seems that coworking still has room to expand in the two metropolises. Indeed, existing coworking spaces show high rates of occupancy while coworking still represent a limited share of the total take-up (13% in London, 5% in Paris). The demand for coworking workstations is far from fading. Rather than being saturated, we consider that the market is becoming more mature.
The demand for coworking workstations is far from fading. Rather than being saturated, we consider that the market is becoming more mature.
Frankfurt, Munich, Madrid, Brussels, on the other hand, show no signs of slowing down. Do you expect the saturation level to come soon in all the other major cities in Europe?
The new trend about coworking is that the market is no longer limited to the usual largest commercial real estate markets that are London and Paris.
In other European dynamic cities, coworking now represents a significant share of the market activity, for instance in Amsterdam, Brussels, Dublin, Madrid or Warsaw (NB : Warsaw will the the hosting city of the Coworking Europe 2019 conference , organized by SocialWorkplaces.com), where it represents more than 10% of the total office market.
Major global coworking operators seem to consider these cities as potential drivers for future growth and are now starting to take a close look at these markets.
The growth of the EU coworking market is driven by the big international players. Have independent operators to find a niche?
Our European coworking research shows that most of the new coworking spaces are created in central parts of the cities, or at least in the well-established business districts. This appeal for these sought-after districts has a cost: this is where the rents are the highest and where the competition for the best buildings is the fiercest.
Big international players can afford to pay high rents to lease large units in the most modern buildings located in prime districts. They are also able to provide a lot of services – which requires more employees –, or advantages such as a global membership that enables their members to access their spaces everywhere in the world, etc…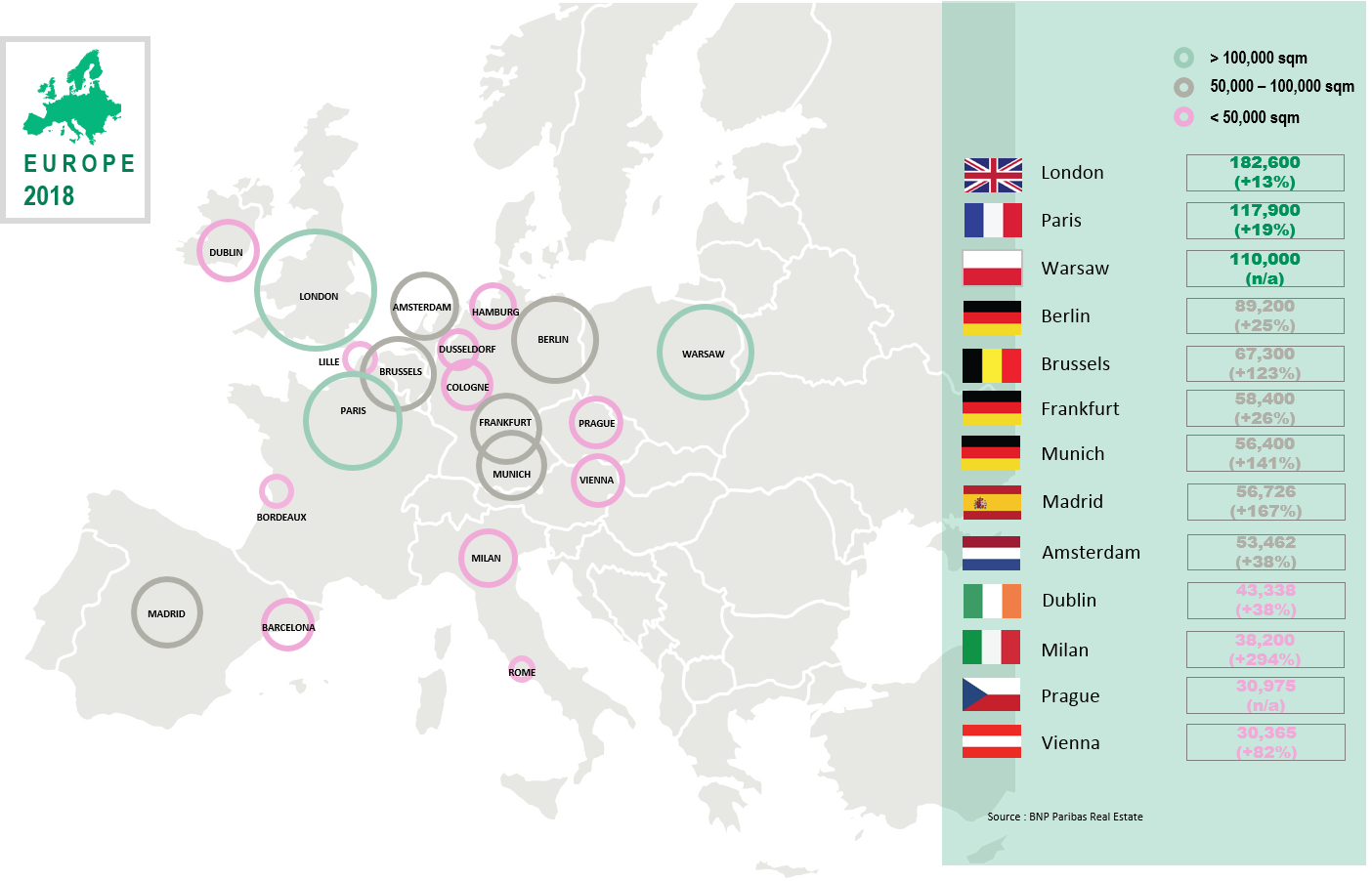 This is very unlikely that independent operators will be strong enough to compete on such levels. They consequently have to find a way to differentiate themselves from the big players to attract customers and to position themselves on their own market segment.
How about property owners developing their own coworking brand and offering, like in Warsaw: is it a marginal phenomenon or do you expect it to strengthen? 
As an always growing phenomenon, this is logical that the flexible office market arouses interest among the whole real estate sector. However we consider that property owners should make sure to implement a solid and well-thought strategy and business model when entering the coworking market.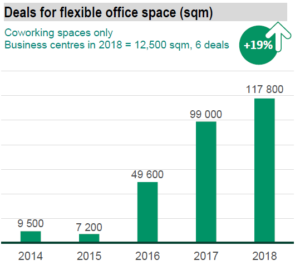 Running their own brand is indeed a new kind of activity for them to which they have to adjust. The question of the economic risks is also important: launching their own brand implies that risks are not shared with the tenant but fully taken by them.
The acquisition of existing coworking brands by major investors is another possibility for real estate players to enter the market while benefitting from the experience of these existing brands. As long as the market continues to grow, we can logically expect this phenomenon to strengthen.
You refer to new forms of collaboration. You mean between operators? Maybe another kind of players? 
We actually referred to the new forms of work organization which tend to require more flexibility for which coworking seems to be an appropriate response.
Join us at Coworking Europe Conference for more insights, data and connections!