Phone booths in your custom colours
This office phone booth can be customised to any color. No extra charge. The door and the body of the booth can be of different colors.
The booth is fully equipped with all the up to date technologies and comforts. The phone booth is designed and produced with love in Europe.
With a 44% noise reduction (-31 decibels), the phone booth brings the user from a "traffic" ambiance to a "quiet library" external noise perception.
Premium interior: scratch resistant shelf, Eco-friendly acoustic felt and a height adjustable stool (add-on).
Free shipping for 2 booths or more
Special Promotion now !
Submit your colour choice(s) in the comment section of the checkout. Available are all RAL colours and oak veneer.
ECO Friendly
The interior lining is made of special eco-friendly acoustic felt. Each booth contains over 800 recycled water bottles!
Soundproof
31 decibel noise reduction, from "traffic" to "quiet library" noise levels*. Get privacy when you need it – no more disturbing colleagues.
Easy self-assembly
The booth comes in flat packs and can be assembled in under an hour! Everything you need comes with the booth. 
Available in ANY COLOUR you like - at NO EXTRA COST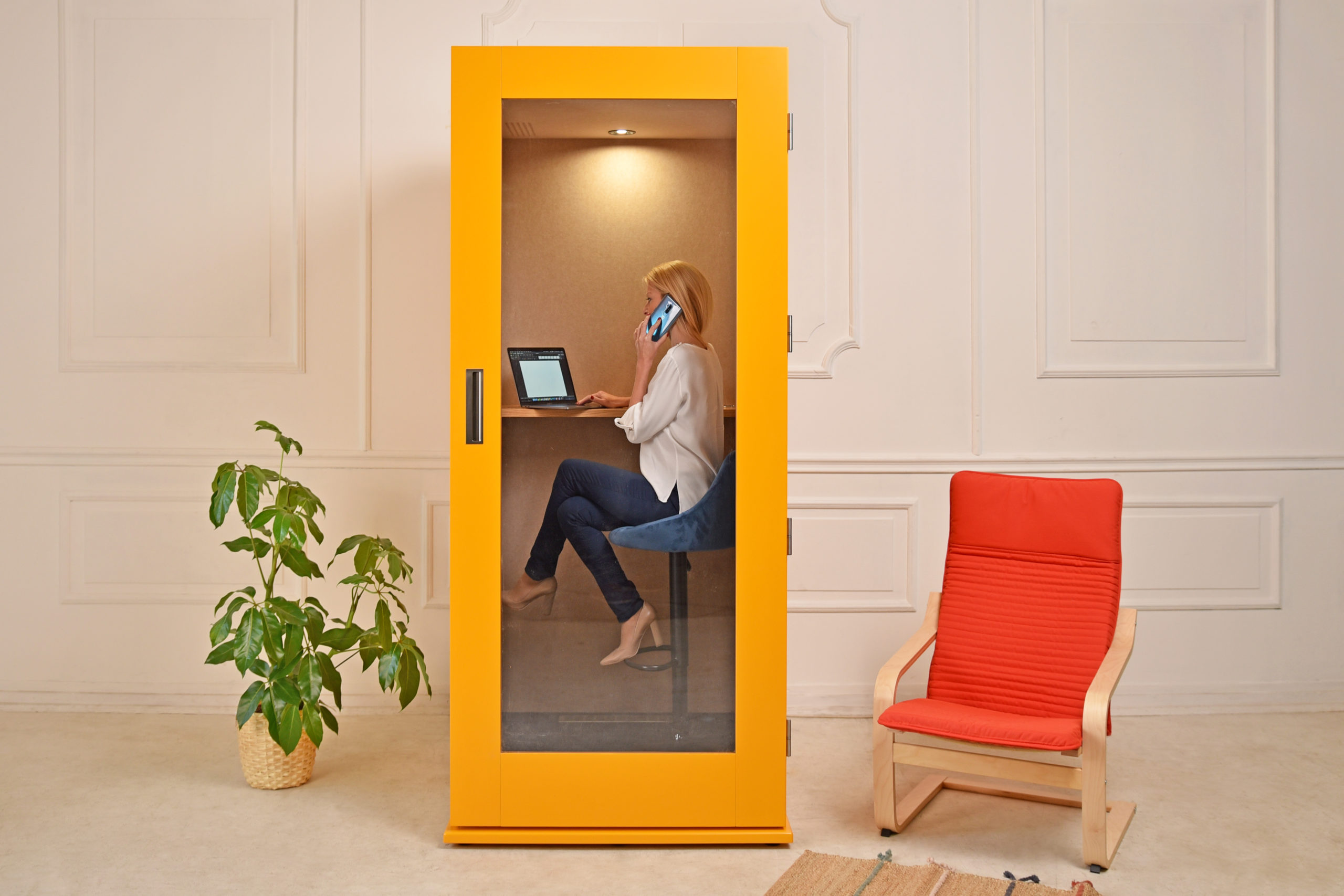 Fully equipped with all the gadgets you need - as simple as that.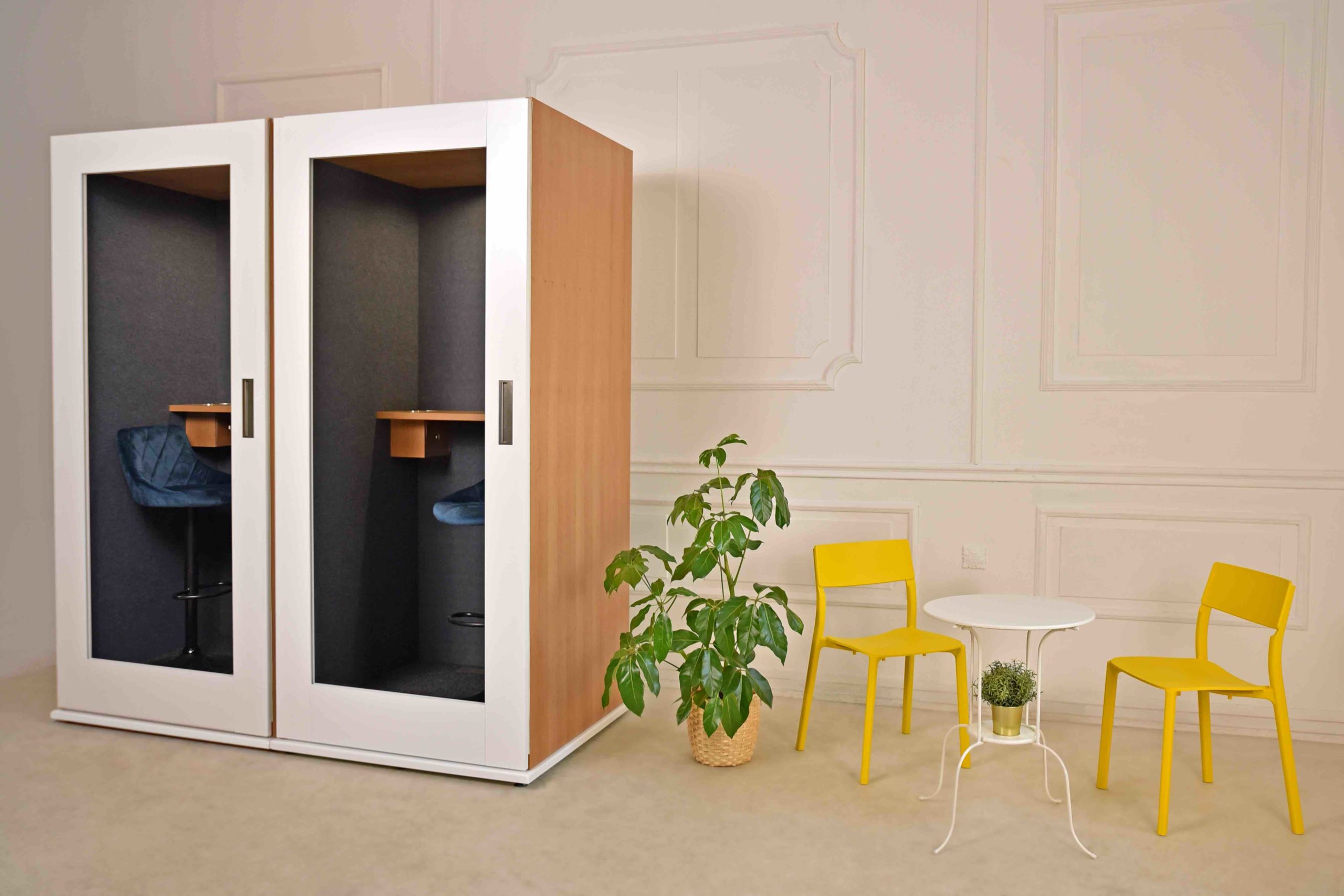 Design the door and the body in different colours to match your style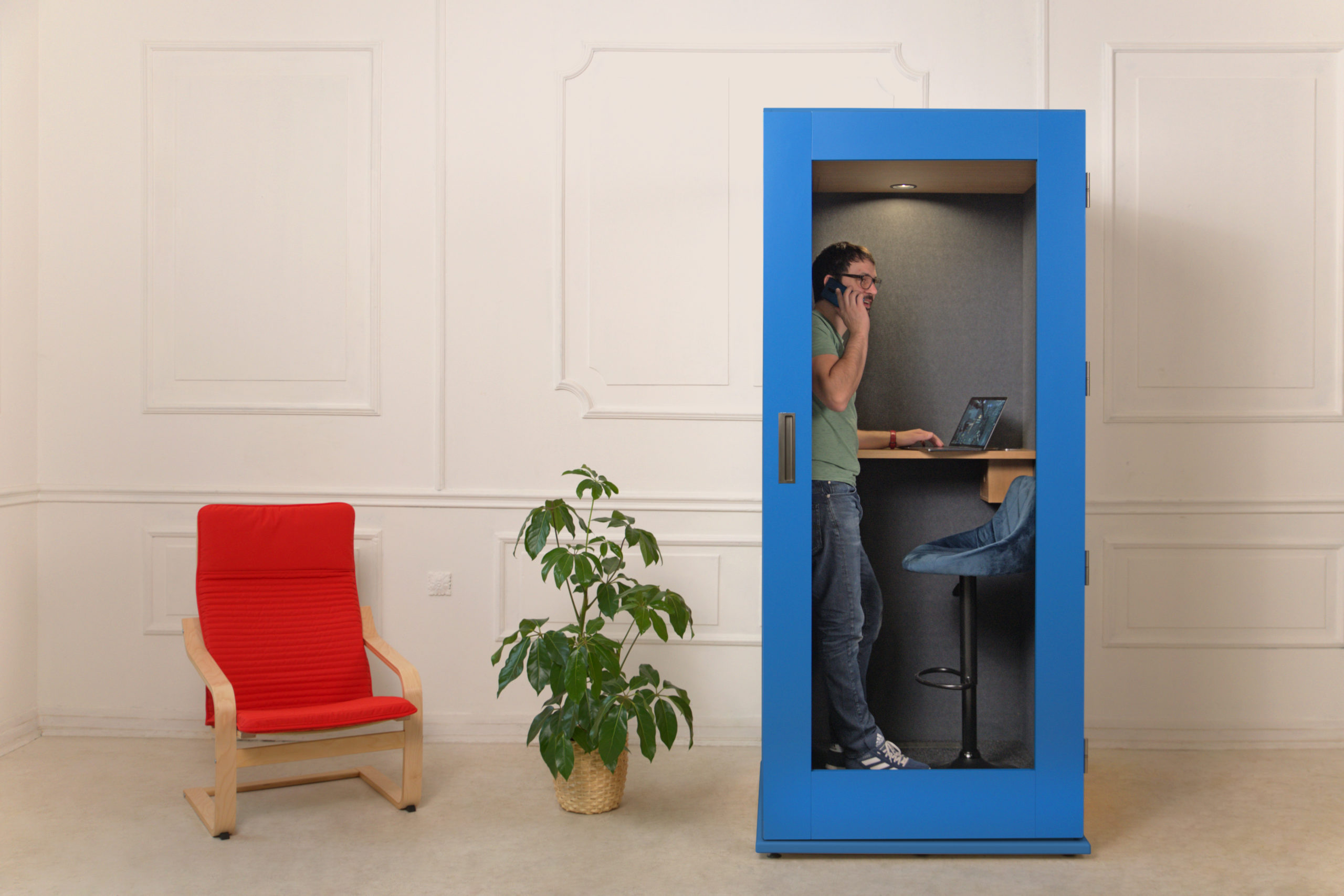 Additional Information:
Features
| | |
| --- | --- |
| Any exterior RAL colour | ✓ |
| Durable oak veneer shelf | ✓ |
| LED spotlight (motion sensor) | ✓ |
| Active ventilation | ✓ |
| QI wireless charge pad | ✓ |
| 2x USB charging points | ✓ |
| Power socket | ✓ |
| Levelling feet | ✓ |
| Height adjustable barstool | (add-on) |
| Cat6 data port | (add-on) |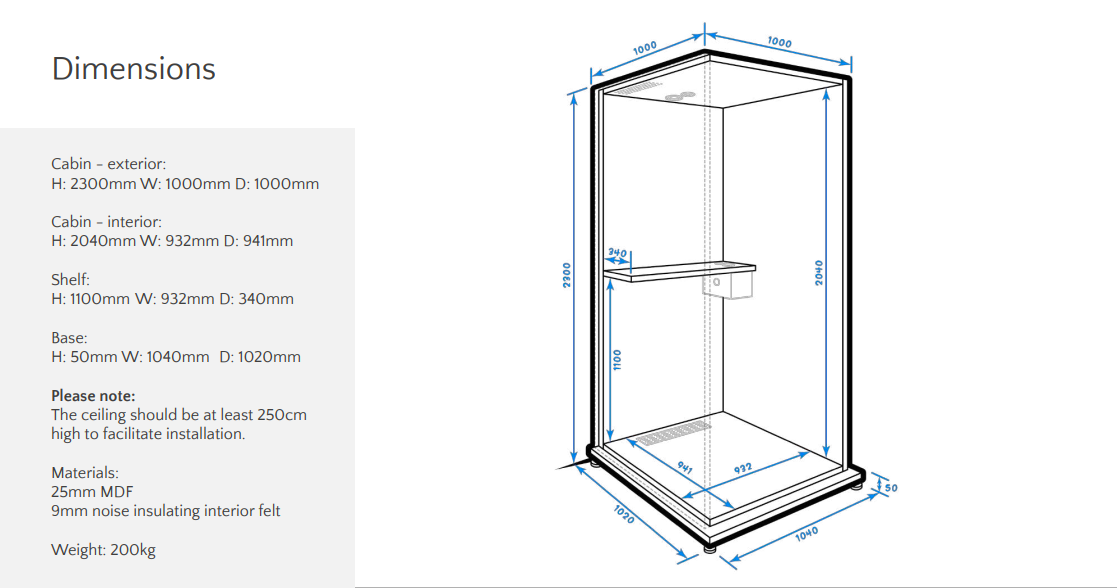 Shipping:
Free shipping for 2 booth or more within EU (+UK, NO, CH).
Shipping cost for 1 booth is EUR 550.- excl VAT. (We do not ship to zones with special VAT regimes like Canary Islands in ES)
Please note:
We provide 'kerbside' delivery. This means the goods will be delivered to your door only.  You would have to carry the goods inside or organise someone to do it for you. 
They come on a large pallet (230cm x 110cm). There are 4 large panels (35kg-40kg each, 230cm x 100cm) and 3 smaller ones per booth. The pallet is protected by a wooden crate, which you would need to disassemble before you can access the booth panels. 
Assembly
Assembly requires 2 people and takes about 1 hour. Instructions are provided - no special tools needed. The assembly is easier if done by 3 people, as some of the panels are heavy.
IMPORTANT: Your ceiling needs to be at least 250cm high to accommodate the assembly. 
Assembly Service: In the green countries, assembly serivce is available for an additional fee. Please reach out to enquire.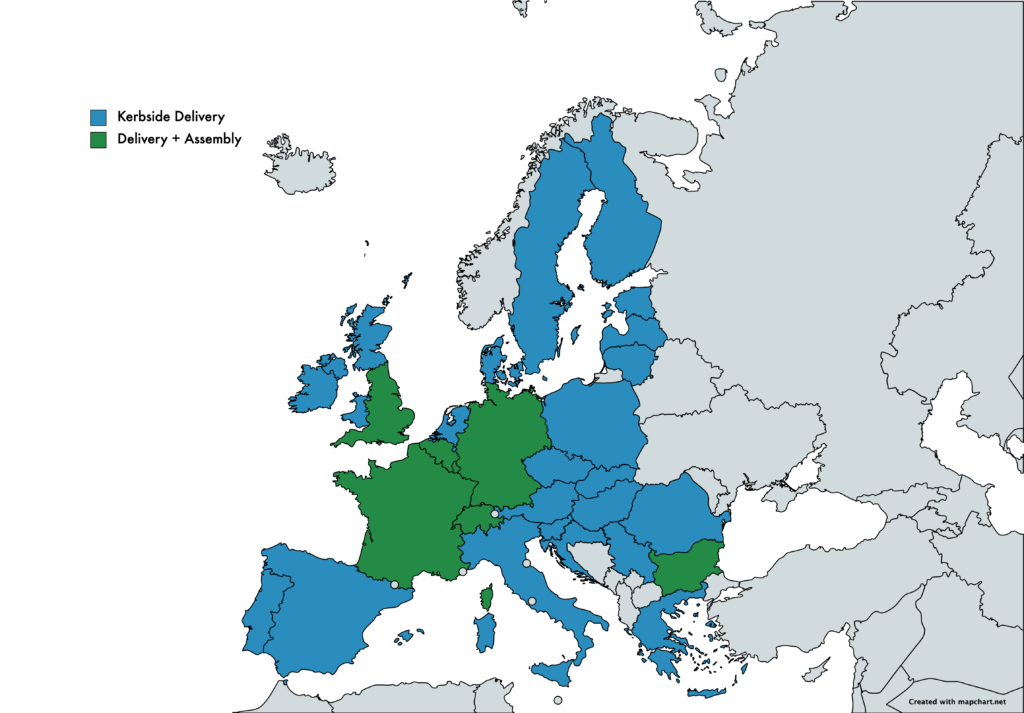 Lead-time
- Due to high demand at the moment, the lead time is  3-4 month. 
The workplace is changing.
Let's shape the future of the workplace together!
Office Location
Somewhere on earth ;-)
Between Spain & Belgium
Open Everyday 8am-5pm