Coworking & Hospitality Management – the Hana experience
€0,00 exl. VAT
Why CBRE enters the coworking business with its Hana brand? Learn more about coworking and hospitality management in this presentation about the Hana experience and the evolution of hospitality in flex spaces.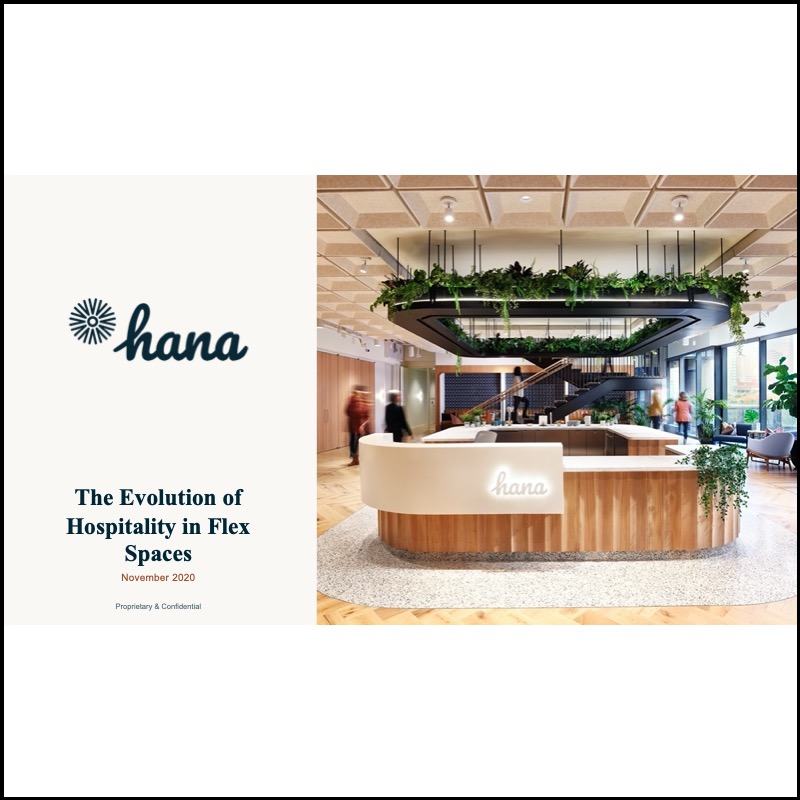 Description
Coworking & Hospitality Management – the Hana experience
After facility management, historically focused on managing technology and infrastructure, comes hospitality management, where human beings and customer's needs are at the centre of the business. Why CBRE enters the coworking business with its Hana brand? And why does it makes sense in a new generation of real estate services? Paul Nellist and Edward Harbison share their coworking & hospitality management experience through its Hana brand. Download the presentation and/or watch their talk which took place at Coworking Europe 2020 virtual conference.
A high level presentation on coworking & hospitality management
Find below the table of contents included in Hana's presentation.
What's been the impact of Covid-19 on Hana and the flexible workspace sector?
What's the concept of Hana, its products, models of occupancy and the evolution of its deal structures?
What's been the evolution of the flexible workspace and wider market?
What's the employees common concern about heading to the office?
What are the big changes to expect in the workplace and the relation with hospitality?
Insightful presentation from the Hana experience
Paul Nellist, Managing Director, EMEA at Hana (London)
Edward Harbison, Marketing Director at Hanna – CBRE (London)
Paul Nellist: "Hana was stablished back in 2018 due to there being a gap for occupiers as there was a significant demand for more professional, higher quality, sophisticated flexible workspace offering. We've also seen this demand coming from owners too. What CBRE was repeatedly hearing from its clients was that they wanted to continuously work with a trusted and reliable partner in the flex sector"
Knowledge Center
Find more reports, surveys, e-books and courses about the coworking and flex workspace sector in the Knowledge Center main section.
Coworking Europe Hub 
Want to know more about the coworking & flex workspace sector? You can register to the Coworking Europe Hub, a permanent online environment that gives you access to monthly events, exclusive content for members and a network of hundreds of professionals from the coworking and flex workspace sector to learn from and share with.

The workplace is changing.
Let's shape the future of the workplace together!
Office Location
Somewhere on earth ;-)
Between Spain & Belgium
Open Everyday 8am-5pm